What kind of tasks can you help me with?
Our range of lifestyle supports help you build on your daily living skills, at home and out-and-about in the community. We'll help you with whatever you need or want to do, including trying new things.
Tasks, activities and skills we could partner on include:
Joining community clubs, activities and programs

Personal care

Learning employable skills

Looking after your health and fitness

Buying groceries

Household chores

Paying bills and budgeting
All our supports will be tailored to you. Together, we'll help you feel more independent, while achieving your goals, being creative and having a good time.
Easy English – Lifestyle supports at Life Without Barriers
Where are these supports available?
Our daily living skills and lifestyle-based supports are available in every state and territory.
It's tailored to you, and we'll support you in a way that suits your lifestyle. That can include meeting at your home, at local services, or getting together with a group. The amount of time we spend together each week or month is up to you – it's about finding what works for you.....
Who will I be partnered with?
Our team will work with you to identify supports that help you achieve your goals. You'll be partnered with a trained Disability Support Worker who has experience that aligns with your goals, needs and interests.
Together, you'll further develop your daily living skills, achieve your goals and get involved in your community in a way that's interesting and enjoyable for you.
Real Stories
"Seeing him smile, doing something that he loves makes it all worth it. He's opened up 100% and it's given him a goal he wants to achieve."

Candice, Matt's Support Worker.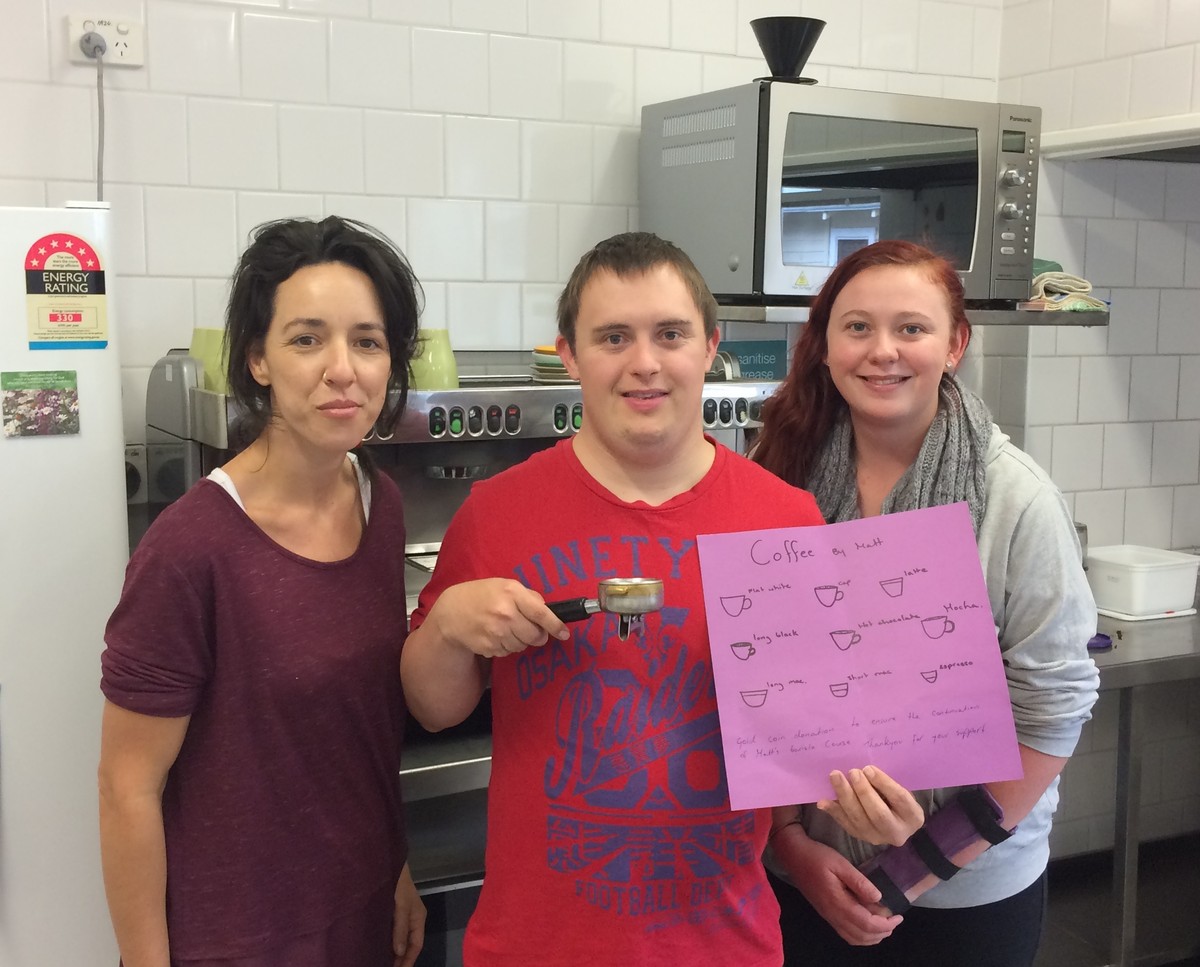 Matt's passion is coffee and he has a dream of opening his own café. So, when Matt's support team began working with him, they found ways to get him closer to living his dream. With our daily living supports, Matt developed his barista skills and completed some local training. Then, after a coffee machine was generously donated to the local community centre, Matt began operating his own coffee shop one morning a week! On Fridays, he serves coffee to Life Without Barriers staff, clients and the general public, while continuing to boost his skills in other ways.
Do you offer day programs?
We offer a range of day programs across Australian Capital Territory, New South Wales, Northern Territory, and Tasmania that involve fun, educational and skill-developing activities, such as:
Art programs
Cooking and gardening
Outdoor games, gentle exercise and sports programs
Technology skill building, drama and music programs
Local community activities, such as going to the library, movies or volunteering.
If you'd like to learn more, please get in touch via our online enquiry form.
Is this service in my NDIS plan?
These are the support categories in your NDIS plan that you can use:
Assistance with Social and Community Participation (Core Supports)
Increased Social & Community Participation (Capacity Building Supports)
Improved Daily Living Skills (Capacity Building Supports)
Transport (Core Supports)
Assistance with Daily Life (Core Supports)
You might also be interested in